On Sale February 1, 2022
Amazon Barnes & Noble Bookshop IndieBound Books-A-Million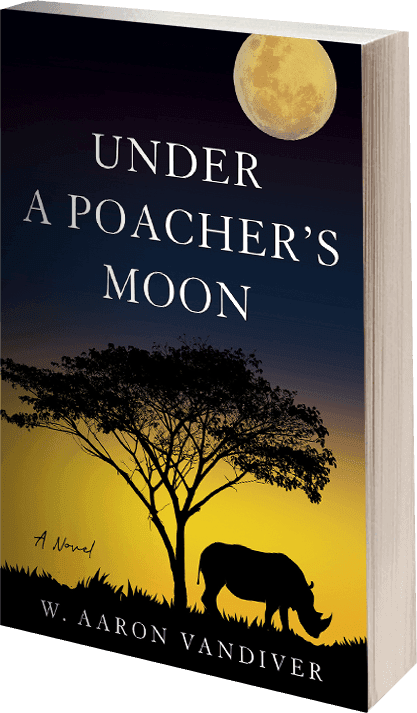 In this explosive debut novel, W. Aaron Vandiver takes readers into the South African Bush, with its stunning landscapes, its dazzling and deadly wildlife, and its dark underbelly of violence. Against this dramatic backdrop, Under a Poacher's Moon tells an unflinching story of two people who fight desperately to save Africa's wildlife, sometimes with tragic unintended consequences, as they search for passion and meaning in a dangerous and unpredictable world.
Anna Whitney travels to Mzansi, a remote safari lodge located deep in the wilds of South Africa, hoping to get as far away from home and her troubled life as possible. The perilous beauty of the land captures her imagination, but when she hears the haunting late-night cries of an injured rhino, her escapist fantasies collide with brutal reality. She and Chris, a safari guide wrestling with his own secret demons, find themselves embroiled in a war on Africa's wildlife.
They are pulled into a struggle that brings them face-to-face with shocking acts of violence, rogue officials, armed gangs, vicious wild predators, and their own deepest fears. It is a conflict that threatens to destroy them, or lead them toward a new and better life together.
Reviews
"An American woman looks for adventure on safari and instead finds a passion for a cause in Vandiver's debut novel . . . Vandiver has carefully and cleverly crafted a tale with an endearing and relatable protagonist. Over the course of the tale, the author not only draws on his experience and knowledge of the story's landscape—he's an attorney and conservationist—but also shows a great ability to delve into a varied range of human experience. He treats all his characters with notable empathy, effectively showing how one's perspective is shaped by one's choices and circumstances. This is not a straightforward good-versus-evil story, but it is a complex and engaging one. An exciting and thought-provoking work that will stay with readers." –Kirkus Reviews